Dev Notes
[Dev Note] Ask the Devs Anything Video (Sept 2020)
ShadowArena
2020-09-15 19:10 (UTC+9)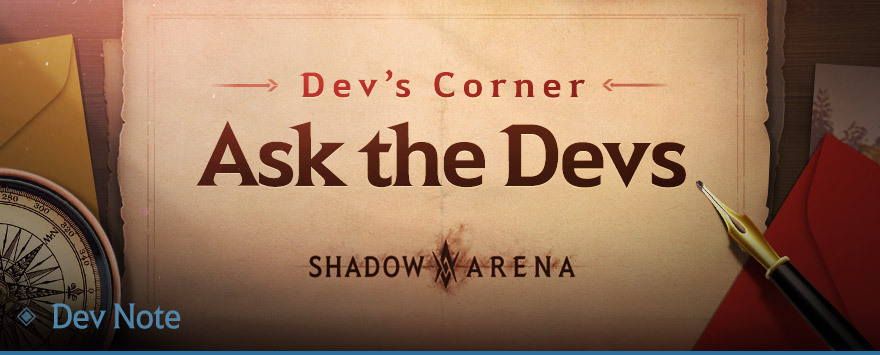 We're stepping the Ask the Devs Anything session up a notch this September by having some of Shadow Arena's top brass bring you the answers to your most burning Shadow Arena questions on video!  
After receiving questions from our players in advance, Shadow Arena Lead Producer "Byulbram" Kwangsam Kim and Director of Live Services Kwangbae Jeon will be releasing the answers to select questions in video format with English and simplified Chinese subtitles on September 25, 2020 (UTC+9). 
So, ask us anything!   
Submit the questions you want answered by checking the details below. We look forward to seeing your questions! 
Submit Questions for the Livestream
■ "Ask the Devs Anything" Period  
We'll be accepting questions until September 21, 2020 23:59 (UTC+9).  
■ How to Submit Questions 
1) Submit your in-game nickname, the server you play on, and a maximum of 2 questions you'd like to ask the devs through the survey below. 
If we answer your question, we may address you by your in-game nickname! 
▶ Go to the "Ask the Devs Video Question Submission (Sept 2020)" survey. 
2) The answers to selected questions will be released as a video featuring "Byulbram" Kwangsam Kim and Kwangabe Jeon on September 25, 2020 (UTC+9). 
* Additional Notices  
- Submitting an offensive or inappropriate name/nickname will be grounds for disqualification from participation.  
- If you submit more than two questions and/or more than one survey, the devs will only consider the first two questions and/or the first survey submitted. 
- Pearl Abyss reserves the right to change/cancel the "Ask the Devs Anything" livestream depending on mitigating circumstances. If changes are made, they can be found on this notice.  
- If you have any other questions or concerns related to the event, please contact us via [Support].        
- Any matters not listed on this page will follow the [Shadow Arena Event Rules] and [Shadow Arena Terms of Service].