Notices
[Notice] How to Preload the Shadow Arena Final Beta
ShadowArena
2020-04-16 12:00 (UTC+9)
Greetings, this is Shadow Arena. 
The Final Beta is almost here! 
First, we want to sincerely thank everyone for the keen interest and support you've shown us so far. 
Now then, come check out how to preload the game below, so you'll be ready to jump right into the action once the Final Beta begins!  
---
Final Beta: 
- April 17, 2020 (Fri) 00:00 - April 20, 2020 (Mon) 00:00 (PDT)
- April 17, 2020 (Fri) 09:00 - April 20, 2020 (Mon) 9:00 (CEST)
- April 17, 2020 (Fri) 16:00 - April 20, 2020 (Mon) 16:00 (UTC+9)
■ How to Register the Premium Beta Key and Preload
① Log in to the Steam client -> Click the [Games] tab in the upper-left -> Select [Activate a Product on Steam] -> Enter the Premium Beta Key 
② Click the [View Games Library] or the [Library] tab at the top of the client > Select Shadow Arena > Click Install 
▶ Go to the Shadow Arena Steam Store Page
* The Premium Beta Key can only be registered after you log in to Steam. 
📌 If you do not have the Steam client installed, you must install the Steam client before being able to register the Premium Beta Key. 
* If you have Shadow Arena in your Steam library from the previous February - March Beta, you can play the Final Beta without an additional beta key.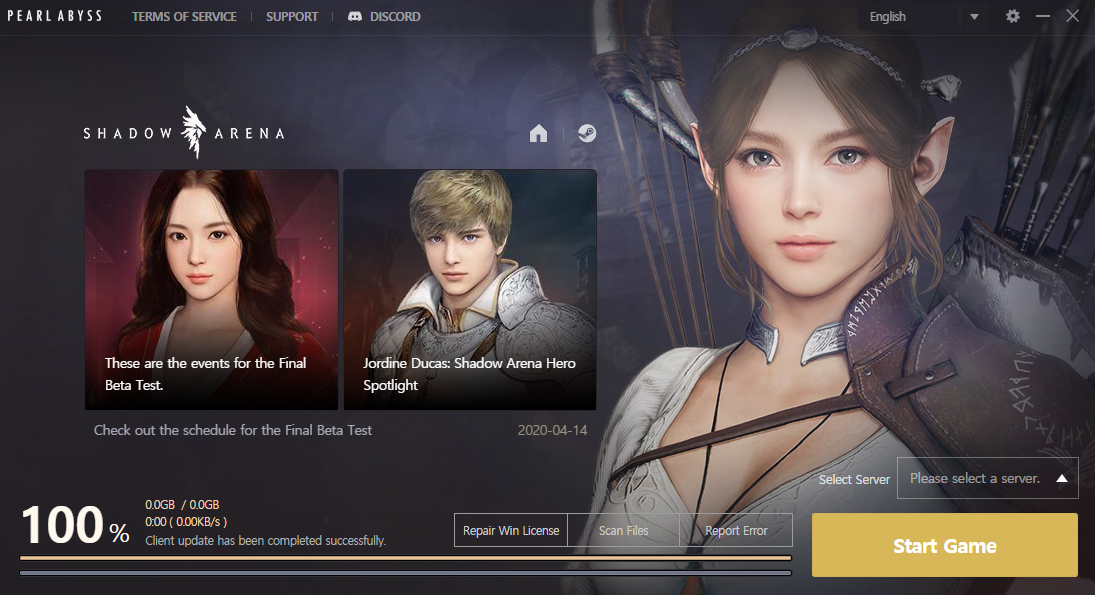 💡Tip. Click on the '▼' in the upper-right of the launcher to select between 14 different  language settings.  
* Please ensure you have at least 13GB of free space available on your PC before installing the client. 
* For any questions about downloading/installing the client or logging in, please visit our [Support > FAQ] on the official website. 
---
What if you haven't registered for the Final Beta yet? 
Just click on the image below and join us today! 
▶ For more details on the Final Beta Schedule 
■ Official Communities
Check out all of our news and announcements at Shadow Arena's official communities!
This April 17 (Fri), a more thrilling and heart-pounding Shadow Arena awaits you!
We'll see you in this new battlefield!