Dev Notes
[Dev Note] Beta Season 6 Development Roadmap
ShadowArena
2021-08-12 08:03 (UTC+0)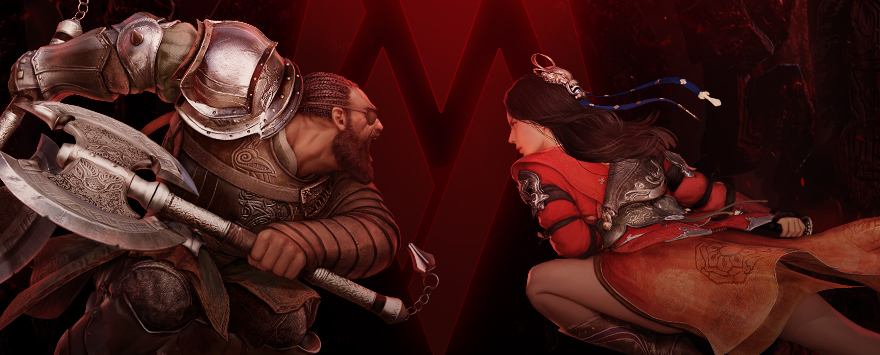 In July, we discussed some of the main issues that were continuously informed to us from the players through the dev notes.

Today we would like to take this time to share some of the upcoming updates that we have in store during Beta Season 6.
Although there is a possibility that the schedule may change, we will do our best to bring these contents during the season. If there is a change in schedule, we'll be sure to annouce it through the developers note.
Development Roadmap for Beta Season 6 (Tentative)
August Week 2
August Week 3
August Week 4
September Week 1
Currently Under Development

Sprint Attack and Jump Attack Renewal

Replay Feature

Ancient Altar Renewal

Adding Variety of Consumable Items

3D Character

Selection Window,

Improved 1v1 Arena,

Improved tutorial,

Hold tournaments
| Improved Rank Rewards
Many players have voiced their concerns with the game's lack of clear goals. This was relatable to the development team as well, which is why, as a first step, we improved the rewards in our last update. Although these rewards may give players a sense of motivation in every round they play, this wasn't a factor that could be viewed as a long term goal. That is why for this season we are planning to add rank rewards to better incentivize long-term play for users.

We thought that Rank Rewards were a considerable factor that go well in hand to the unique aspects of the season, help players build long term goals, and strengthen players' sense of pride of their rank. Of course, this would only be possible if the rewards were substantial. These rewards will not strengthen certain Heroes or their balance as only rank players who achieve a higher rank will be rewarded with pet item, profile effect, and special title.


| Replay Feature
As mentioned in the last Dev Note, we are accelerating the developement of the Replay feature for a faster release. The Replay feature will allow players to view the actual game-playing screen unlike Spectator mode so the actual cooltime of skills buffers used by Heroes, etc can be viewed just like the actual game screen.

We are currently developing the Replay feature in two forms so players can spectate in streaming mode and be save the video so you can watch players' past plays. For streaming mode, there may be a slight time difference since you will be viewing the screen after a certain time of the player.

This feature will be essentially utilized in competitions. We are planning to give early access of the feature to our Partner Influencers, and will be planning to make the feature available to many more players soon.
| Ancient Altar Renewal
Players encounter different situations from game to game, such as different opposing heroes, mastery skills, growth success or failure, and other factors that influences the flow of the match. The Ancient Altar, on the other hand, remained largely unchanged, making strategic use of it difficult in a rapidly changing situation. In addition, the effect offered from the altar is fixed and players who time it correctly can easily obtain it. This was specially the case for those who had grown well or have good control over their hero which made it all the more easy to claim dominance over the altar denying any chances of comback for other players. Therefore, when the altar provided powerful effects, most players found it difficult to challenge those who gained the effects making for an unpleasant experience for those on the receiving end.

Currently, we are preparing to implement a ancient altar renewal in order to improve on these points.
In the Ancient Altar renewal, players can go to the Ancient Altar and select the desired item or effect by using the Blackstar Fragments they collected from the arena. Because of this, if players have enough Blackstar Fragments, they can choose what they need depending on the situation, and we believe players will be able to use the Ancient Altar strategically to devise a winning strategy.


| Adding Variety of Consumable Items
We understand that players may have questioned the value of consumable items since they share the same 6 slots in the inventory along with regular items.
The reason why we didn't differentiate the slots by items was to balance things out so that players would have to give up one or the other when it came to managing items. However, this limited rooms for strategic plays and we felt that it created a repetitive gameplay experience.
As a result, we plan to split the slots between gear and consumable items in this season to allow players to freely use consumable items. This means that Stun Trap and Flashbang may be reintroduced in the future. Apart from what has already been mentioned, we plan to add a variety of exciting consumable items, so we hope you look forward to it.
| 3D Character Selection Screen
We are planning to change the character selection screen to 3D in the lobby.

The goal of the revamped 3D character selection screen is to allow players not only choose a character or equip skins, but also to give them a better sense of the hero that they've chosen. Of course, we couldn't leave out the fact that we also wanted to show each hero's distinct personalities. However, all improvement work will be carried out in the form most suitable for the concept of Shadow Arena, and depending on the situation, it may be applied in another form other than the 3D window.

| Improved Tutorial

We are planning to improve the overall quality of the tutorial.
We want to improve how the tutorial is presented and to make it more fun and user-friendly to ensure that new players can quickly adapt to Shadow Arena. Previously, new players struggled to find a clear goal in they had to do when they first played the game. With this renewal, we expect that new playes will be able to understand more than 90% of Shadow Arena through the tutorial.
| Tournaments
We are planning to hold weekly tournaments, which many of our players have anticipated, in the new season.
The registration period has opened for the Event Cup as of today, and we are currently preparing a slightly larger tournament this September. However, the tournaments will be held on the Asia server.
We understand that our players on the Amercia and Europe/Russia server have been waiting for tournaments as well. Unfortunately, it is not realistcally possible to hold a tournament on the America and Europe/Russia server at the moment, so we apologize for the inconvenience.
However, we may be able to hold a small tournament together with partner influencers. If such tournament does take place, we'll make sure to announce it through a separate notice.
In addition, by reflecting the opinions received from the online QnA held in July, we decided to add the HP and Stamina bar to show up at the bottom of the screen in the nickname UI. We also have plans to add more AI bots in the future.
We are also planning to improve the 1v1 Arena content to make the sparring sessions in the Sparring Ground more enjoyable and meaningful.
It is difficult to share when exactly these changes will be added since the update scheduled has not been confirmed yet, but rest assured that these changes will be made during Beta Season 6. We'll be sure to share more information regarding these changes through the patch notes.
Also, in Beta Season 6 we will concentrate on improving the overall quality of the UI to make it more intuitive in addition to what was already mentioned above throughout the season.
---
This concludes the development roadmap for Beta Season 6.
If you have more questions about the mentioned topics, please make sure to drop us a line on our official website or DevChat.
Everyone on the Shadow Arena team will do their best to answer anything you may be curious about.

Thank you for the love and continued support for Shadow Arena.
We will do our best to bring an even more exciting Shadow Arena in the second half of the year.
Thank you!